How to wear a kikoy

There are lots of ways to wear a kikoy, just let your imagination run. Here's the traditional way ...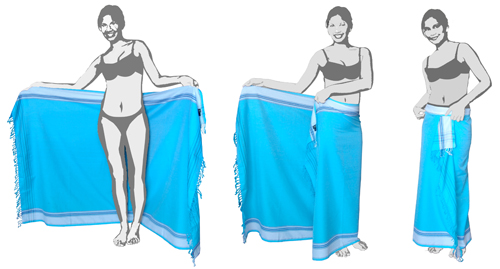 Different ways to wear or use a kikoy
There are an infinite number of uses for a kikoy. Below we've listed just a few. If you think up another use please email us and we'll put your suggestion on this page!


| | | |
| --- | --- | --- |
| Sarong | Mini skirt | Hair Tie/Bandana |
| Picnic mat | Scarf | Fancy Dress |
| Beach Coverup | Bikini Top | Shawl |
| Toga 1 | Toga 2 | Tablecloth |
| Baby Sling | Baby Hooded Towel | Apron |
| Turban | Wind Screen | Curtain |
| Shade | Blindfold | Apron |
| Mosquito net | Gift wrap | Gift! |
| Rug | Long Dress | Cushion cover |
| Furniture Throw | Towel | Seat Cover |